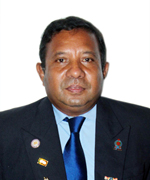 2015/2016 was an extremely exciting and significant period for the Mercantile Athletic Federation of Sri Lanka. This period was highlighted with large number of activities and events starting from achieving many developments goals, hoisting considerable amount of successful events. This report is created with the purpose of providing a brief description of all the activities that took place within this valuable period.
I would be failing in my duties if I do not extend gratitude to my committee members for their contribution towards the development and success in all matters concerned with regard to athletics within Mercantile Sector.
A notable mention is to the great sponsors such as Ceylon Biscuits, Sri Lanka Telecom, Janashakthi, HNB, Lake House, Dockyard, Aviation Collage, Speed Water and valuable individuals such as Mrs. Hansa Withanawasam & Mr. Gihan Kanduwawala for their support and effort made to raise standard and dignity of MAF in Sri Lanka. Also John Keels and Ceylon Cold Stores who willingly agreed to support during meet 2016.
We must thank all print & electronic media institutes & personals for the coverage they have given in many occasions and hope that you will continue good work in helping us to develop and uplift Mercantile Athletic Sector in future as well.
Thank you
Sydney Ratnayake
President – Mercantile Athletic Federation